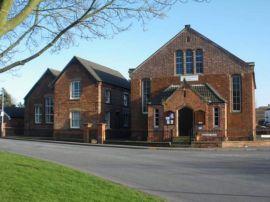 Askew's Almshouses
Contact Secretary Diane Butterfield Tel 01472 840762
Almshouses, known as "Jubilee Cottages", in Church Lane, for elderly and persons in need; Preference is given to residents of the Parish of North Thoresby.
Mapletoft Allotments, North Thoresby
Allotment gardens in the centre of the village. Anyone wishing to go on the list for an allotment should write to Masons Chartered Surveyors, Cornmarket, Louth LN11 9QD . Reference "Mapletoft Allotments"
Mapletoft Scholarship Foundation
Each year, in October or November, the Trustees of the Mapletoft Foundation meet in North Thoresby to award grants to young people, in order to help with their higher education or apprenticeship expenses.
In order to qualify, you must satisfy the following criteria:
be between 16 and 25 years old
have attended N. Thoresby Primary School or other state funded school in the area
have resided continuously in the civil parish of North Thoresby, Grainsby and Waithe for 5 years or more
be about to enrol or are already enrolled in higher education or apprenticeship training
If you are interested in being considered for a grant, please contact:
Patrick Purves
43 Broadbank
Louth
LN11 0EW
Tel : 01507 605385
Email : ppurves@aol.com
Mapletoft & Smith Charity
Gifts are distributed at Christmas to deserving people and families who live in North Thoresby.
North Thoresby Methodist Church
Minister : Rev. Ruth Charlesworth
Tel : 01472 871359
Church Contact : Lynne Dudgeon
Tel : 01472 840720
Sunday : Morning service
Every week at 11am in the Chapel.
Tuesday : 2nd Tuesday
A time of worship, prayer and reflection for all.
The second Tuesday of each month before coffee.
In the Wesley Centre. 9.30 - 10 am.
Tuesday : Coffee Morning Drop-in
Raising money for charities.
Coffee and chat in the Wesley Centre.
Every Tuesday. 10.15 - 11.30am.
Wednesday : Wednesday Circle
Friendship, fellowship, a talk and refreshments.
Fortnightly in the Wesley Centre at 7.30pm.
Friday : Carpet Bowls and Kurling
Gentle exercise, friendship and refreshments.
In the Wesley Centre at 2pm.
Friday : House Group
at "Peacehaven," Fen Bridge, North Thoresby.
7.30pm. Tel: 01472 840247
All are welcome at any of these events.
Just turn up or for more information,
Mixed Crafts
Wesley Centre, Wednesday 1.45-3.45pm, alternate Thursdays, 2-4pm. Contact Janet Draycott 01472 840225
North Thoresby Pop-In Lunch Club
Village Hall, Thursday, 12.00 noon. Closed in August. A three-course cooked lunch for £4.00; open to all. Secretary Sarah Durrant 01472 840786, Treasurer Diana King 01472 841690
North Thoresby Embroidery Group
Wesley Centre, three/four Saturday sessions (10.30am- 4pm) in Spring and Autumn, embroidery and mixed crafts with expert tutor. Contact Jacqui Toyne 01472 840246
North Thoresby & District W. I.
Wesley Centre, 7.30 pm, first Tuesday each month except January (second Tuesday) and August (no meeting)
North Thoresby Knit and Chat Group
Meets every Monday in North Thoresby Village Hall between 2:00pm and 4:00pm. Knitting and crochet work is done to support charities, including 'Operation Christmas Child' and 'Help for Heroes'. New ideas and knitting problems are shared and a friendly welcome is assured.
Contact: Margaret Gibson on 01472 840698
St Helen's Church
The Village People
Fundraising and event organising for the local community. Contact Dave Barnett 01472 840674, email: davebarnettnt@googlemail.com